Jul
4
Sat
2015
Movie Premiere: A Paying Ghost – PG

@ Maidment Theatre
Jul 4 @ 3:30 pm – 6:00 pm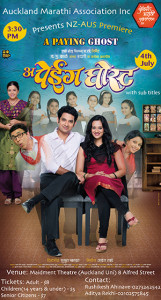 Auckland Marathi Association is proud to present another NZ movie premier: A Paying Ghost is a story based on the famous novel "Badali" by Vasant Purushottam Kale (V.P Kale). The story narrates the interaction between a common innocent man and a homeless ghost family.
A horror film is not always about just horror. It can also be about humour. A Paying Ghost brings you streaks of fun and laughter and and an experience into the magical world of the Ghosts.
Starring: Umesh Kamat, Spruha Joshi, Pushkar Shrotri, Sharvani Pillaai, Mahesh Manjarekar etc.
Director: Sushurt Bhagwat
Producer: Jayant Lade Production House: Lade Bros Films PVT. LTD.
There are no upcoming events to display at this time.