Jul
4
Sat
2015
Movie Premiere: A Paying Ghost – PG

@ Maidment Theatre
Jul 4 @ 3:30 pm – 6:00 pm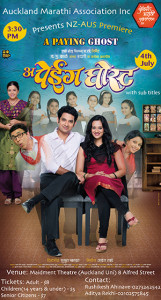 Auckland Marathi Association is proud to present another NZ movie premier: A Paying Ghost is a story based on the famous novel "Badali" by Vasant Purushottam Kale (V.P Kale). The story narrates the interaction between a common innocent man and a homeless ghost family.
A horror film is not always about just horror. It can also be about humour. A Paying Ghost brings you streaks of fun and laughter and and an experience into the magical world of the Ghosts.
Starring: Umesh Kamat, Spruha Joshi, Pushkar Shrotri, Sharvani Pillaai, Mahesh Manjarekar etc.
Director: Sushurt Bhagwat
Producer: Jayant Lade Production House: Lade Bros Films PVT. LTD.
Aug
8
Sat
2015
Dhamal Jodi
Aug 8 @ 5:00 pm – 9:00 pm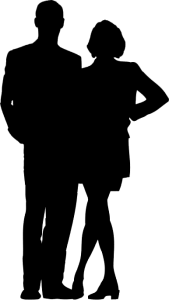 Ready for AMAI's upcoming event then block your date's for 8th August 2015. This event is for you…. We are searching for the energetic and fun JODI, which will be our very own AMAI's DHAMAL JODI !!!
To select our Dhamal Jodi the participants will go though three rounds.
Round 1: Idea chi Kaplana
90 seconds will be given to each JODI to show their creativity. To give you an idea you can dance, sing, perform a skit, act or do anything you want to showcase your creativity and talent. Use of props is allowed(Props will be your own)
This is an elimination round and only 5 top couples will go to the next round. So put your talented creative hats on and bring the best in you !!!
Round 2: Amazing race
3 Couples will go to the final round to be crowned our Dhamal Jodi
Round 3: Gupit manatale
Question and Answers about your partner with a funny twist
Any music related to round 1 and all the interested participant entries to be submitted by 5th August 2015. To registering your interest please email us – contactus@amai.org.nz or inform to our EC member Aditee on naikaditee@gmail.com /+64 21 112 1194
Terms and condition:
Jodi makes of 1 man and 1 women
One of the participant should be a member for the AMAI
Sep
20
Sun
2015
Ganeshotsav 2015

@ Freemans Bay Community Centre
Sep 20 @ 4:00 pm – 9:30 pm

You are cordially invited to celebrate Auckland Marathi Association's Ganeshotsav with your family.
The Ganeshotsav program schedule will be as followed:
3:00pm to 4:00pm : Aras and Hall decoration – do join us with your creative ideas.
4:00pm to 5:00pm : Ganapati Sthapna and Pooja
5:00pm to 6:00pm : Ganapati Aarti and Darshan
6:00pm to 8:00pm : Cultural programs by AMAI little wonders, youth and adult members.
8:00pm to 9:30pm : Dinner
The complete program is free for the current AMAI members or for the people who would become members by that day.
NOTE: Please do not feel offended if you are requested to present your AMAI Membership Card at the entrance. Members MUST pay their membership fees prior or on the event day. Guest Fees will be applicable incase Membership Fees has not been paid.
Guest fee is $15.00 per person. This includes dinner, served after the program.
There are no upcoming events to display at this time.