Aug
8
Sat
2015
Dhamal Jodi
Aug 8 @ 5:00 pm – 9:00 pm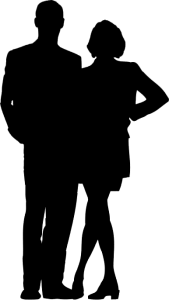 Ready for AMAI's upcoming event then block your date's for 8th August 2015. This event is for you…. We are searching for the energetic and fun JODI, which will be our very own AMAI's DHAMAL JODI !!!
To select our Dhamal Jodi the participants will go though three rounds.
Round 1: Idea chi Kaplana
90 seconds will be given to each JODI to show their creativity. To give you an idea you can dance, sing, perform a skit, act or do anything you want to showcase your creativity and talent. Use of props is allowed(Props will be your own)
This is an elimination round and only 5 top couples will go to the next round. So put your talented creative hats on and bring the best in you !!!
Round 2: Amazing race
3 Couples will go to the final round to be crowned our Dhamal Jodi
Round 3: Gupit manatale
Question and Answers about your partner with a funny twist
Any music related to round 1 and all the interested participant entries to be submitted by 5th August 2015. To registering your interest please email us – contactus@amai.org.nz or inform to our EC member Aditee on naikaditee@gmail.com /+64 21 112 1194
Terms and condition:
Jodi makes of 1 man and 1 women
One of the participant should be a member for the AMAI
Apr
2
Sat
2016
Mandiaali Shabdtalanchi

@ Greenbay High School Auditorium
Apr 2 @ 6:00 pm – 9:00 pm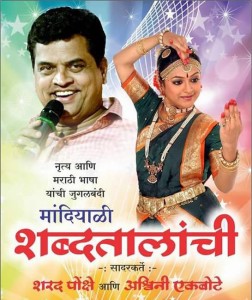 मराठी भाषा ही जगातल्या सर्वोत्तम भाषेपैकी एक. पण भाषा ही नंतर आली, त्याआधी संवाद साधायच माध्यम होतं ते हातवारे. त्यालाच मुर्तरुप येऊन नृत्य ह्या कलेचा जन्म झाला. मग नृत्याचे भारतीय प्रांत संस्कृतीनुसार प्रकार पडले. नंतर भाषेचा जन्म झाला.
त्या मराठी भाषेची व नृत्याची जुगलबंदी म्हणजेच "मांदिआळी शब्द तालांची " गेली 30 वर्ष मराठी रंगभूमी मालिका व चित्रपटात काम करणारे लोकप्रिय अभिनेते श्री.शरद पोंक्षे व सोबत नृत्यात एम.ए. व 20 वर्ष भरतनाट्यम् ची पुण्यात ईन्सीट्युट चालवणार्या, मालिका नाटक चित्रपटात स्वतःच वेगळ स्थान निर्माण करणार्या अभिनेत्री सौ.अश्विनी एकबोटे ह्या दोन कलाकारांनी सादर केलेली शब्द नृत्याची जुगलबंदी…….
"मांदिआळी शब्द तालांची"
Summary
Event
Location
​
Auckland Marathi Association

,

161 Godley Rd, Auckland 0604

,

Auckland
Starting on
Ending on
Apr
30
Sat
2016
Khumkhumi

@ Greenbay High School Auditorium
Apr 30 @ 6:00 pm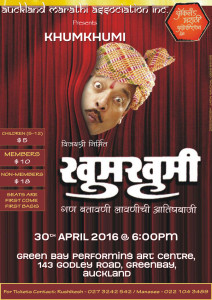 आपल्या महाराष्ट्रला वरदान लाभले आहे ते अतिशय समृद्ध संस्कृतीचे…
ही भूमी आहे शिवाजी महाराजांची…
ही भूमी आहे एकापेक्षा एक महान संतांची…
राणी लक्ष्मीबाईंपासून ते मेधा पाटकारांपर्यंत, टिळकांपासून ते दाभोळकरांपर्यंत, फुल्यांपासून ते आमटेंपर्यंत… या महाराष्ट्राने आपल्याला इतकी महान व्यक्तिमत्व दिलेली आहेत कि नावं घेऊ तेवढी कमीच, कोणा एकाची महती सांगायची म्हटली तर शब्द अपुरे पडतील. तसंच ओव्या, गवळणी, पोवाडे, गणेशवंदना, लावण्या अश्या अनेक सांस्कृतिक परंपरांनी समृद्ध असलेल्या आपल्या या महाराष्ट्राचा एक दिन…
आपल्या संस्कृतीचा हा दिन म्हणजेच १ मे "महाराष्ट्र दिन".…
ह्या वर्षी हाच महाराष्ट्र दिन साजरा करण्यासाठी आपलं मंडळ तुमच्यासाठी घेऊन येतंय एक अस्सल मराठमोळा कार्यक्रम आणि तोही तुमच्या आवडत्या कलाकाराबरोबर…
Summary
Event
Location
​
Greenbay High School Auditorium

,

161 Godley Rd, Green Bay, Auckland 0604, New Zealand

,

Auckland

,

Auckland
Starting on
Ending on